The 10th edition of IEIA Open Seminar will see the industry stalwarts converge at BIEC Bengaluru
Indian Exhibition Industry Association (IEIA) is delighted to announce that the 10th edition of IEIA Open Seminar will take place from 21st to 23rd May 2020 at BIEC, Bengaluru. The 3 day event is one of the biggest and most comprehensive MICE industry seminar & expo focusing all aspects of the exhibition industry.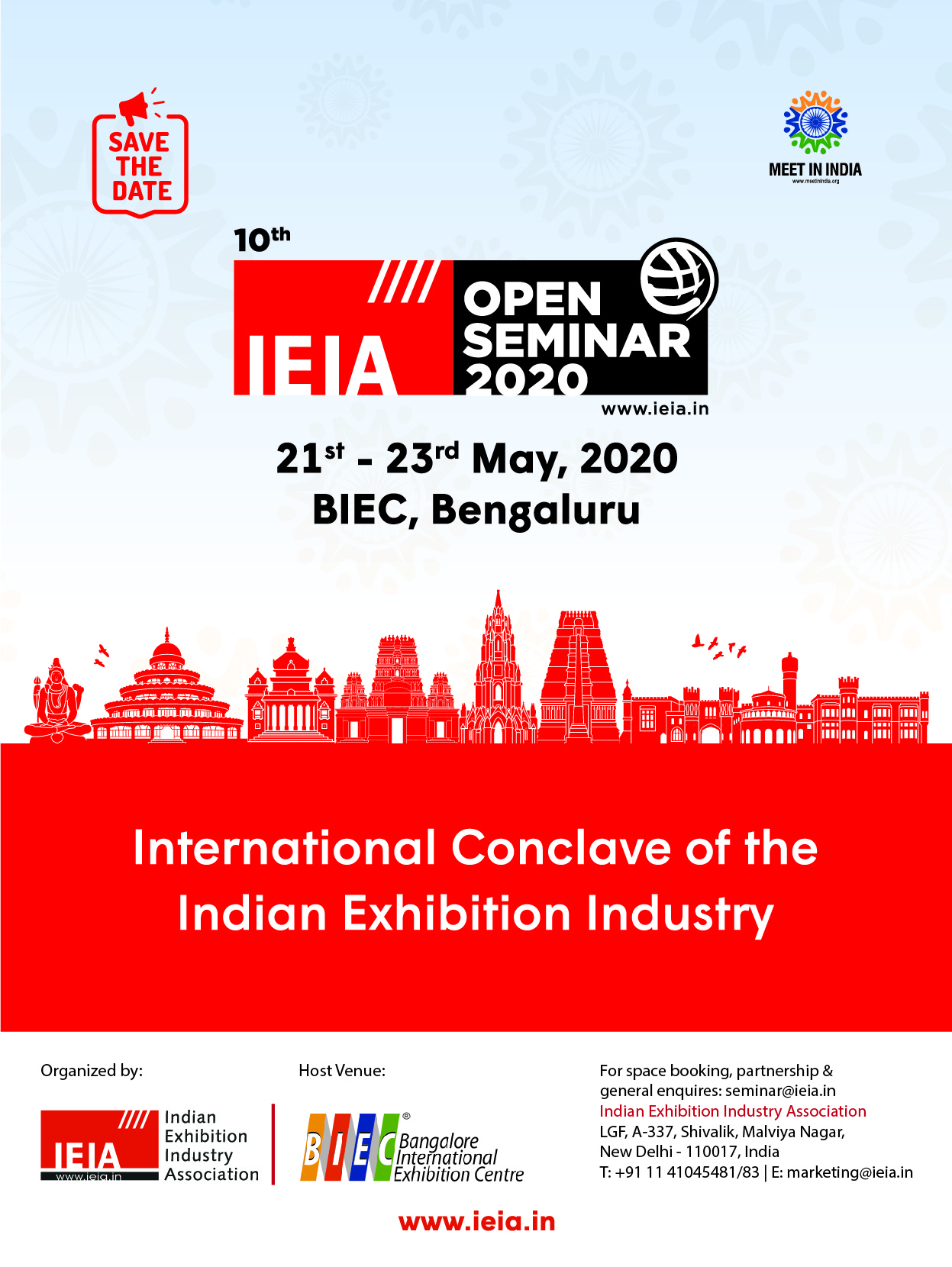 The 9th edition successfully gathered professional players from different verticals of the exhibition industry which includes organizers, M & A specialists, venue owners, service providers, technology provider, logistic service providers, stall fabricators and many more from across the globe. More than 500 delegates from 28 plus international countries marked their presence, bringing together the Indian and global exhibition industry fraternity under one roof. The event was supported by many global associations, including UFI, IAEE, AFECA, SISO, UBRAFE, AEFI, AFE, IELA, CENTREX, AUMA, SBE and several more.
The 10th edition will bring new learning and innovative trends from national and international exhibition industry players to uplift the exhibition industry and to provide a platform for attendees and exhibitors to meet, network and build relations to their target market to enhance the future of the Indian exhibition Industry.
Why IEIA Open Seminar 2020?
Biggest MICE industry event in India

Connect with leading players of the exhibition industry not only from India but also from many other countries across the globe

Pre fixed business match making session

Learn about latest trends and technological innovations directly from international exhibition industry leaders

Fair focused business generation event that ensures great results for participants
Event Objectives & Highlights
Indian Opportunities, Global Partnerships

Facilitating collaboration, partnerships and joint ventures among regional, national and international players

Over 600 leaders of the global exhibition industry player will attend the event including heads of leading global bodies viz. UFI, IAEE and AFECA

Delegates coming from over 30 countries across 5 continents

Rewards and Recognition

Collaboration with leading international associations to form synergies for cross border business expansions
IEIA invites you to be a part of this largest MICE industry event of India which will be held from 21st to 23rd May 2020 at BIEC, Bengaluru.
Contact IEIA
To register as delegate or book stall and for more details: +91 11 4104 5481, seminar@ieia.in.